<![if !vml]>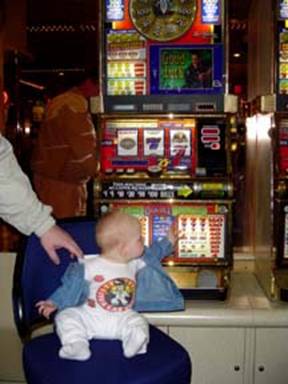 <![endif]>Adventures of a Vegas Strip
Baby-Sitting Stroller-Pushing Dad
or, December 2003 trip report
The intro:  my lovely wife K. had to work a trade show in Vegas.  All well and good, but what of our six-month-old Bean?  Sure, we could put her in day care all week for 10 hour stints while I'm at work… or I could take the week off, come along to Vegas, and push her up and down the Strip in a stroller all day.  The choice was obvious.
Monday, December 1
When we decided to go ahead with this trip, our biggest worry was the logistics of flying a six-month-old across the country.

 

Which stroller, which car seat, whether to buy her a ticket or just hold her on our laps, how to fit it all in a cab, and not least, how she'd handle the flight itself.

 

As it turned out, she handled it admirably.

 

The one-hour hop to

Pittsburgh

was no problem, and while she did cry when we got on the plane to Vegas, that

was

mostly because she was overdue for a nap.

 

She fell asleep in due course, and was relatively mellow the rest of the flight.

 

Probably more calm than I've been on some trips.

 

US Airways

is

one of those carriers that now charges for in-flight meals.

 

While it probably saves them a lot of money, I didn't see that reflected in the ticket price.
<![if !supportLineBreakNewLine]>
<![endif]>
<![if !vml]><![endif]>We got a very nice room at the Flamingooooooo, with a view of the Bellagio fountains. Partially blocked by Ballys' sign, but still nice viewing when one was, say, sitting in the quiet dark room with a sleeping baby.

 

(For the unfamiliar, on my bachelor party a couple years ago, we decided the proper pronunciation of this hotel's name is "Flamingoooooooo."

 

The bird or the street can simply be "flamingo" at one's option).
<![if !supportLineBreakNewLine]>
<![endif]>
After we settled in, K and I were both starving, so it was a good time to hit the buffet at Ballys (we had a coupon).

 

And circumstances allowed me to test the big pre-trip question, "Will they let me gamble with the baby?"

 

It was approaching game time for Monday night football, and I wanted to put a bet on it just because I could.

 

Bean was fussing and needed to be walked around, so I volunteered.

 

And down we hustled to the sports book, which is approximately half a mile from the buffet.

 

I strolled her on down there like it was the most normal thing in the world, asked the current line (Titans by 3) and about McNair's status, but when I said "Twenty bucks on the Jets," a supervisor came over and stopped things.

 

No Children

In

the Sports Book.

 

I protested mildly, but didn't make a big fuss.

 

And by then it was too late, and too far away from the buffet, to go give her back to K and return in time to place a bet.

 

Of course, the Jets won.

 

I have to wonder if they didn't somehow know the outcome of the game, and would have let me bet if I had wanted the Titans.
<![if !supportLineBreakNewLine]>
<![endif]>
After eating, we headed out for Walgreen's.

 

See, we figured we'd take just enough diapers, baby food, etc. to get us through Monday,

then

buy more once we got there. There's a Walgreen's down by the Grand (and we learned later, another one up across from the Stardust).

 

Good idea:

 

visit Walgreen's at the start of your trip and buy a case of water, beer, whatever, to avoid paying high hotel prices.

 

We bought way too much junk, looking at our watches all the while to compare local to

eastern time

and wonder when we should put Bean to bed.

 

She held up pretty well on the walk down to the Grand and back, but did have a rough night later (that would be her only rough night of the trip, fortunately).

We stopped in the Grand itself to use the bathroom and look at the Lion Habitrail. I visited a bar, where the big screen was showing Titans-Jets, and the Jets had just intercepted a pass.

 

I have a Jets defensive player on my fantasy football team, so I asked a guy in a #10 Pennington jersey who had picked off the pass.

 

"I don't know, mate," he said in a thick English/Irish accent.

 

Not what I expected to come out of a guy in a Jets jersey.
<![if !supportLineBreakNewLine]>
<![endif]>

That evening began my awful week of gambling.

 

I don't know what it is about those match-play coupons (put down your $10 plus the coupon, if you win you get $20), but I never seem to win with them.

 

Led off with one at Ballys at blackjack and lost.

 

Managed to get up about $70, but then lost a seemingly infinite string of hands and bailed out.

 

Played a little Pai Gow with some nice young Canadian men, and managed to hold my own (which is usually what happens at Pai Gow).

 

Then I went over to

Paris

to use another match-play coupon (I lost, of course), and proceeded to get severely burned at blackjack there as well.

 



I decided that was enough gambling for the night, but I wasn't ready to turn in.

 

I wandered up the street to check out new developments.

 

Caesars is adding even more space to the Forum shops, which is all well and good, but I'm disappointed that they've disabled all the lengthy moving walkways.

 

Harrah's has this completely annoying shopping kiosk area by their

Carnival Court

now that you MUST walk through; the sidewalk doesn't go straight by, so the detour adds time and obnoxiousness to your walk.

 

I cut over to TI (now with sexy pirate women! but fewer pirate ship shows), took the tram to the Mirage, then headed for home.

 

seemed like an early time to turn in, but it was the first night, after all.

 

Things would get worse, though.
<![if !supportLineBreakNewLine]>
<![endif]>
Tuesday, December 2
<![if !vml]><![endif]>

With the time change, we were all up early, which made for a good excuse to go see the penguin feeding at

.

 

In addition to the obvious flock of flamingos, the Flamingooooo has a flock of South African penguins,

who

waddle and swim and are generally amusing.

 

Their keeper gave a briefing as she fed them stinky little fish.

 

Thus we could call it educational for Bean.

 

We followed with a nice stroll of the grounds, around the pool and wedding chapel and so on.
<![if !supportLineBreakNewLine]>
<![endif]>
The weather would be good all week:

 

mid-60s and sunny.

 

I even wore shorts one day.

 

Hell of a lot better than back east, where it snowed on Thursday and Friday.

 

Not warm enough to swim, however.

 

The Flamingoooooo's pool is one of its major advantages, and while we could still

stroll

the grounds, most of the pools were closed.

 

One appeared to be open and heated, but nobody was in it whenever I walked by.

 

The jacuzzis were open, but I was reluctant to take Bean in one.

I've pretty well adopted the Flamingooooo as home base in Vegas:

 

great location at center strip, reasonable rates, nice rooms, Hilton points, and that killer, killer pool.

 

But at this time of year I wonder if we shouldn't try something different, since the pool factor is nullified.

 

I'm told

Barbary Coast

has great rooms for the money, despite the worn casino.

 

Same for Las Vegas Club downtown.

 

I would love to stay at NYNY some time, and of course it would be a hoot to stay at Bellagio or the Venetian (right after I hit a royal playing Let It Ride, of course).

 

Maybe next time we're there in the winter.


 
So, when one has a baby, and can't gamble or drink, what's left to do in Vegas?

 

Go shopping, of course, so we headed over to the Forum shops.

 

We ended up at the aquarium and (stupid) animatronic fountain show back by Race for Atlantis.

 

I hung around near the outbound corridor, just in case it scared Bean.

 

Yet with booming voices, flames shooting out, and the freaky evil bird creature, she was more interested in the people standing next to us.

 

Go figure.

 

(Later in the week we'd be in a mall bathroom; I flushed the toilet, and THAT scared the daylights out of her.)
<![if !supportLineBreakNewLine]>
<![endif]>
On this night, it became official:

 

I am old.

 

We put Bean to bed, the room was dark with the TV on low, I was lying on the bed and it felt good.

 

Still trying to adjust to time... rough night last night... "Aren't you going out?" K asked.

 

Oh boy.

  

Going to bed now is paramount to admitting I'm not as young as I used to be... but I could use the sleep.

 

Sleep won out.

 

There's always tomorrow, right?

 

This is where I needed someone to kick my ass and shout "C'mon!

 

We're going!

 

We're gonna do shots and play craps all night!"

 

But K had her conference the next day, so she wasn't going to rally the troops, and Bean wasn't much help either, being a baby and all.
Wednesday, December 3
Today was the day K had to be on the show floor all day, so Bean and I had to trek over to the Convention Center for mid-day nursing.

 

The monorail isn't open yet, so we took a cab over.

 

The convention center is pretty nice, as such things go.

 

I wish I could go to more big conventions and stuff, but it's rare for me, and the ones I do get to are usually local to DC.
<![if !supportLineBreakNewLine]>
<![endif]>
After K went off to the convention center, I took Bean downstairs and rustled up some steak & eggs.

 

It's a quintessential Vegas meal; it's meant to be enjoyed drunkenly at on a late-night special, but stone sober at 10 on a coupon would have to do.

 

Good stuff.

 

The wait staff and my fellow patrons raved over Bean, natch.
<![if !supportLineBreakNewLine]>
<![endif]>
Bean and I walked back with stops at the Fashion Show Mall and the fancy-ass Venetian canal shops.

 

I hadn't set foot in the mall in at least five years, and it looks to have been completely redone in that time.

 

Standard mall stuff.

 

Also the most sedate environment we'd been in outside our hotel room, so Bean actually fell asleep in the stroller.

 

We enjoyed a Haagen-Dazs milkshake and pureed carrots in the food court.

 

The shops at the Venetian are full of expensive crap I can't afford, and wouldn't want to waste my money on if I could.

 

Someone out there buys $1200 handbags, but I will never understand why.
<![if !supportLineBreakNewLine]>
<![endif]>
There's always been a strong sex component in Vegas, but to my knowledge it hasn't been so embraced by the major casinos in years.

 

Just a few years ago, there were only a couple of topless shows left, Folies Bergere at the Trop and maybe one other.

 

Now they've multiplied, with Harrah's, the

Luxor

, Ballys, and the

Grand

getting into the act.

 

You have the family-friendly Excalibur running Australian Chippendale wanna-bes, Caesars with the pseudo-sexy Shadows bar, Treasure Island sexing up their good old pirate ship show, and even Cirque Du Soliel has the much too sexeeeheehee "Zumanity" at NYNY.

 

Not that there's anything wrong with any of that, but I suppose it means Vegas is downplaying the family angle.
Of course, there's always been strip clubs, and the ubiquitous stripper-pamphlet flippers.  It seems like there's more of the latter than ever before.  I wonder why the city doesn't try to get rid of them, both for the sheer family-friendly/annoyance factor, and the fact that the ground is littered with dial-a-stripper cards for half a block after you run a gauntlet of them.  Still, must be a lot of people ordering strippers straight to their rooms to keep all the flippers employed.  For the most part, they had the decency to NOT try to hand me a stripper ad while I was pushing the stroller, but some of them flipped away anyway.
<![if !supportLineBreakNewLine]>
<![endif]>
<![if !vml]><![endif]>After last night's early-to-bed debacle, I had planned to rampage out tonight.

 

Maybe to Casino Royale, or maybe trek down Flamingo Road to check out the new Westin Casuarina, and to visit the gnarl of Ellis Island (and its brewpub).

 

Alas, K came back from her evening event feeling ill from something served there, so I stayed in to take care of her and the Bean.

 

Dinner:

 

Burger King at O'Shea's, to go.

 

Sigh.
<![if !supportLineBreakNewLine]>
<![endif]>
Thursday, December 4
We were up early Thursday, and before K went to her conference sessions I took advantage and played some morning cards.

 

I stayed at the Flamingoooooo, and--get this--actually won on a $5 match play coupon.

 

Of course, I lost most of the rest of my hands.

 

My playing companion was an incoherent young man, drunk and/or on crystal meth, who played seemingly at random, and often asked me what to do with his cards.

 

And quite naturally, he kept winning, while I lost.

 

Then I spilled coffee on my white shirt and was upset.

 

I tired of his antics and went to play Let It Ride, where I lost the rest of my money for that session.
<![if !supportLineBreakNewLine]>
<![endif]>

When passing the sports book on the way back to the room, I noticed my beloved but crappy Caps would be playing at

New Jersey

.

 

"I should put some money on the Devils," I thought.

 

But I didn't do it then, never had an obvious opportunity the rest of the day, and didn't make a point of it.

 

So of course, the Devils won 3-0 (I don't know what the line was, but it's rarely more than 1˝ for hockey).

 

Twice, the best bets are sports bets I failed to make.

 

While writing this, it occurred to me that I failed to place my ritual Phillies-win-the-Series bet (running 12-1 at this writing, but was probably a bit higher before the

Milton

trade).

 

If the pattern holds, the Phillies will pull it off but I will have no bet to collect.

 

But I could live with that.

 

Let it be noted that I also didn't bet on the Eagles to win the Super Bowl, or the Flyers to win the Cup.
<![if !supportLineBreakNewLine]>
<![endif]>
Vegas had been pretty slow all week, but picked up today.

 

You see, the rodeo came to town.

 

The National Finals Rodeo is evidently a big event.

 

A number of casinos put up wacky displays with bales of hay and cow skulls to attract this clientele.

 

It was a little odd seeing all these goobers with cowboy hats and boots, especially in a setting like Excalibur.

  


<![if !supportLineBreakNewLine]>
<![endif]>

We had previously noted the upcoming presence of Jeff Foxworthy at

Paris

, and thought that a little odd.

 

Paris

has probably gone the farthest with their theme of any place in town, with Le

This

and Le That and all the staff in wacky French outfits, so it seemed odd that Mr. Redneck Comedian would be playing there.

 

We wondered if it was dumb luck, or if someone had booked him with the full sense of irony in mind.

 

Then today, it clicked:

 

the rodeo is in town.

 

He'll sell out every show.

 

A big gold star to someone in

Paris

' booking department.
<![if !supportLineBreakNewLine]>
<![endif]>
<![if !vml]><![endif]>That morning, the next stop on our shopping tour was the Desert Passage at Aladdin.

 

The indoor rain there is kind of a nice effect.

 

I had Mexican food while keeping Bean placated with toys and strained peaches.
In the afternoon, I headed back out not knowing exactly what we were going to do, and we ended up going all the way down to the south Strip.

 

When did the Excalibur get so crappy?

 

I mean, it's never been posh, but it looks like they've really let the place go.

 

We went down to their midway, which was practically deserted.

 

To make things worse, the Krispy Kreme there was not making donuts with their Rube Goldberg contraption, which meant no free show, and no hot fresh donuts.

 

We rolled over to NYNY; their midway was similarly empty (but still incredibly loud), and nobody was running the Whack-a-Mayor (think Whac-a-Mole with human heads) stand.

 

Heading back north, we stopped to hang out in front of the Bellagio and watch the fountains, but I had pushed Bean a little too far and she had a grade

A

over-tired freak-out until I got her home.
<![if !supportLineBreakNewLine]>
<![endif]>
K returned from her conference wrap-up gala, and I was finally off for a proper evening of drinking and gambling.

 

After a quick stop at Caesars to wolf down Chinese food, I headed for the Casino Royale, an oasis of dirty, low-limit fun in the middle of a fancy part of the Strip.

 

I enjoy craps, but I have a hard time with a $5 game; just seems like my money vanishes too quickly.

 

CR runs a $1 game with 100x odds, plus they have $1 beers while you wait for a spot at a table.

 

I played for a couple hours; my initial $100 went down to $20 at one point, but I enjoyed a good run at the end.

 

When I color-changed out:

 

$101.

 

I laughed and pointed out that I'd started with $100, and one of the dealers said, "That's a lot of work for a dollar."

 

I tipped them the extra dollar, just to have a nice round number.

Then I played blackjack, and lost the hundred bucks in about 20 minutes.

 

Same crappy pattern as before:

 

win a couple hands, bump up my bet, get an 11 and double to a 20.

 

Dealer turns over a 12 or 14, but then draws to 21 on the first hit.

 

I swear

,

that happened a half-dozen times over the course of the week.
<![if !supportLineBreakNewLine]>
<![endif]>
Friday, December 5
After spending a lot of time in and around Caesars this week, I saw plenty of video ads for the crazy-ass Celine Dion show.

 

I am not a fan of Celine Dion, and would not pay one dollar to see this show, but at risk of losing my cool person's license, I will say that if I was offered free tickets I would have to think about going.
<![if !supportLineBreakNewLine]>
<![endif]>
Not to see Celine--the thought of her blowing up "I Drove All Night" makes me wanna jam an ice pick in my ear--but for the whole spectacle of the thing.

 

It's put on by an ex-Cirque Du Soliel producer/director guy, after all, and it looks like a whopping big production.

 

But tickets are, like, two hundred bucks or something, so never mind.
<![if !supportLineBreakNewLine]>
<![endif]>
After we packed up, I made one more foray to Casino Royale in the hopes of repeating the craps fun of the previous night.

 

This time it didn't work out so well.

 

I ended up next to a guy playing the dark side who complained bitterly to his compatriot every time he lost.

 

It got completely annoying, and after 20 minutes and down $20, I got out of there.

 

Gambling Rule #1:

 

if you're not having fun, stop playing.

 

I stopped in other locales, including the never-before-entered

Imperial

Palace

(which I'm glad I never went in before)

,

in hopes of finding something else to play, but nothing grabbed me and I called it a night.

 

I just didn't want to lose any more money, which I was sure

would

happen if I sat down at another table.
<![if !supportLineBreakNewLine]>
<![endif]>
Saturday, December 6
If I've been winning, I'm always very sad to leave town.

 

While I enjoyed myself on this trip, I also lost my entire stake, so I was kind of glad to go.

 

It wouldn't be an easy journey home, however.

 

We got a free-middle-seat row on our

flight to

Pittsburgh

, and it took off on time… then turned around and headed back to McCarran.

 

The pilot said he had an indicator light that the landing gear door was stuck open, which wasn't a problem by itself, but would add drag and thus increase fuel consumption, so he wanted to have it checked out.

 

By , they finally announced that we should get off the plane and find another flight.

 

And from the looks of things, US Airways had never experienced a cancellation before.

 

Titanic lines.

 

I eventually bolted for a pay phone, called their 800 number, and got us a new routing through

Charlotte

, departing at

.

 

But we still had to get boarding passes, and the line at that gate was immense, too.

 

Apparently, everyone at the front of the line was negotiating their trips and took 15 minutes each; those of us at the back had already confirmed seats and just needed the freakin' boarding passes.

 

Fortunately, they held the flight, and we took off (no longer with an empty middle seat, of course) at .

 

At least the

Charlotte-to-DC

flight wasn't crowded.

 

However, our bags didn't come with us (they showed up at Monday morning).

Bean once again impressed us with her tolerance of the conditions.

 

A couple of minor bouts of fussing, but nothing over-the-top.

 

And she seems to have re-adjusted to

eastern time

pretty quickly, too.

 

We're lucky.
<![if !supportLineBreakNewLine]>
<![endif]>
So, Vegas trip #9:

 

Compared to previous trips, pretty mundane.

 

Having a baby along puts a damper on gambling, eating at fancy restaurants, or going to shows.

 

Not warm enough to hang out at the pool.

 

Gambling-wise, a near-total disaster.

 

Still, a mediocre week in Vegas beats a great week in the office any time.

 

Poker rocks, craps at CR was a hoot, we did get some good food where we could (including buffets and steak 'n' eggs), and

Everybody

Loves a Cute Baby.

 

Can't wait to go back.
<![if !vml]>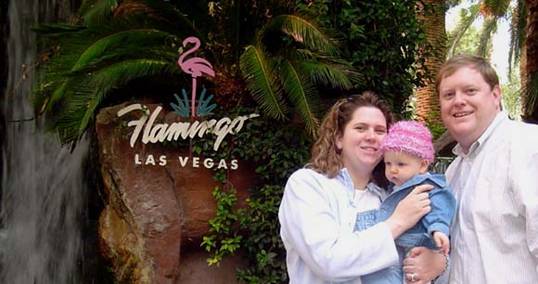 <![endif]>