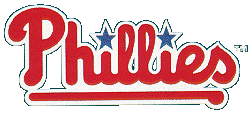 From the Field:
Memories and comments as contributed by fans
As the proprietor, I'll go first. Everyone likes to talk about Kruk vs. Randy Johnson, or Kruk playing with torn pants, but the moment that made me a John Kruk fan forever came in the '92 All-Star game in San Diego. First base has always been a talent-deep position throughout the majors, and in '92 there were at least four first basemen on the NL All-Star roster. In an effort to get our man in the game, the NL manager sent Kruk out to right field late in the game. John played in the outfield in years past, but it had been a while. Sure enough, a towering fly ball was hit his way. Back... back... to the warning track... Kruk crashed into the wall, looking like he was going to go right through it, and missed the ball entirely. Before America could stop laughing, he got up, picked up the ball, and THREW OUT THE RUNNER AT THIRD BASE! A beautiful play. He meant to do that.
---
Here's what some other people have said about Kruk and about this site. Each paragraph is a different writer. The opinions expressed are not necessarily those of the Shrine's caretaker; my comments are in brackets. This page contains older submissions, an archive of sorts; you can go back to read newer submissions.

I remember John Kruk when he played AA ball in Beaumont, TX during the summer of 1983. He also pitched an inning that year. I have a signed picture of him doing just that. He also attended Mass on Sundays when they were home at my church. A really nice guy. Was great with the little old ladies in the stands and the kids. [In his book, Kruk describes the season in Beaumont as one of the best of his career. The team was winning, they were all having fun, and the fans were very good to them. Nice to see the fans remember it too.]

This page makes me want to go sit in my seat at Lackawanna County Stadium and swill a beer. [Now that's what I call high praise!]

[Here's Ken with a bit of an overstatement, but it's nice to hear anyway.]
This is the greatest page I've ever seen on the internet. John Kruk is the greatest player of all time. I wish it were once again 1993 because that was the greatest season there ever was and ever will be. In all of professional and amatuer sports, there has never been a team quite like the '93 Phils. No one had more heart than they did. How could you lose with guys like the Krukker, the Dude, Dutch Daulton, and of course our recently departed friend, Jimmy Eisenreich. We will certainly miss him as much as we miss the Krukker. I will always miss Harry Kalas saying "It's a long drive to deep right field, this ball is Outta Here. Another clutch home run for The Krukker." And then good old Whitey would sum it all up with an "Oh Brother!" There were many "Oh Brothers" that year. Long Live the Krukker!

Hi my name is Lauren. I am a long time Phillies fan. I started liking the Phillies back in 1992. Before anyone even dreamed that the Phillies would be the National League Champions. The first time I saw Krukker, I thought, what a slob. The more games I watched, I realized, that he may be a slob, but he is a good guy. Basically, he was the heart of the 93 Philies, along with Daulton, Dykstra,etc. I began to grow very fond of Krukker throughout the years. When he was diagnosed with cancer of the... I won't go there, i was extremely upset. John battled back and was able to play ball again. I can remember waiting until 5:00 in the morning for him to come out of Veterans Stadium. I was waiting to get his autograph. When I asked for it, he said "You better hurry up, it is 5:00 in the morning." I will always remember him as a Phillie. I know he is missed by both the fans and his teammates.

While I'm hardly into the beer-guzzling look, I'll miss John Kruk's fire and enthusiasm for baseball. He and the rest of the 1993 Phillies were what baseball is about. It can be played by normal guys as well as the athletes like Dave Winfield and Jim Rice, the "professors" like Greg Maddux and Orel Hershiser and the kids like Alex Rodriguez and Ken Griffey Jr. It's supposed to be fun and John was fun. I will always remember his at-bat against Randy Johnson in the all-star game. He reacted the way I would if I had to bat against Randy Johnson. And you've got to love anyone that big who can hit well above his weight. With both Steve Balboni and John Kruk gone, there is a void in the big leagues.

I feel that the krukker is the man. He was the reason I became a phillies fan. In the first phillies game I went to he hit a homer and I fell in love with baseball. It is a shame to see baseball and the way it is now. He and the other Phillies showed what baseball was all about. They did not care what they looked like or what they said, they were tough and gave their best. 1993 WAS THE LAST BASEBALL SEASON AT ITS BEST.

Hi, My name is Mike. I believe that because all the humor surrounding John Kruk the real point was missed, he was a very good ball player and maybe one of the best hitters of the 80's and 90's. I have been a huge Kruk fan since 1986 and really miss him playing ball and I think baseball does too because there isn't any more characters in the league. All there is now is how much money can I make amd how many endorsements can I do. The best way to remember John Kruk is by the statements he made during the strike in 1994. He said I get paid 2.5 million dollars to do what I love, and what others only dream about doing. I really like to thank you for making this page it good to know that other people appreciated Kruk as much as I did.

I must say that the John Kruk web page was wonderful. It was also sad for me. I have been a baseball fan all my life and i have never seen an athelete like Mr. Kruk. I remember going to a Phillies and Padres game when i was a young boy. Kruk played for San Diego then and he played left field. I remember a young right fielder making a true "ass" of himself and ticking off fans by teasing them. But from that moment on I became a huge John Kruk fan for various reasons. The biggest was because after watching him play ball for a few years, I could tell he was just a Big Kid playing a sport he loved, not doing a job to get money like most ball players. John Kruk is every "big" man's idol.....I wore 29 when i played ball and also played first base, i wanted to be just like him and in many ways still do. How could I not worship a man who would be satisfied with playing a ball game for a case of beer and a pizza....Anyways, I wanted to tell you I enjoyed your web page very much and you spoke of Mr. Kruk the way he truely is......a man who enjoys life at his speed and doing what the hell he wants.

[Now here is a hard-core fan:]
I am a big time Kruk fan. It started out back in 92...I was a live-in nanny for a family in Devon, PA. As it turns out...Lenny Dykstra was One of our neighbors. I got interested in baseball then...and came to love the Krukker. I have so many Kruk things.....autographed jersey...ball...bat...3 ft Kruk clock...and my favorite...my PA license plate that I had on my car (I crashed the car this past summer...but kept the plate)...it reads..... JON KRUK ...... !!!! I showed it to Kruk himself at an autograph signing at the Trexlertown mall...he couldn't believe I would pay $30 to have his name on my car....I assured him he was worth it!!! LOL...it is a real license plate...no one else in PA can have it!!!! now that my car is crashed....that's the next thing to be signed. I saved many clippings of the Krukker.. Put them together on separate "wall mounts,"....like 1 1/2 x 2' ....mostly from '93 season. I have numerous kruk cards...too many to list! Kruk starting line up figure-still in package......lots! I of course have his book..."I Ain't An Athlete"....as well as other Phils stuff.

Many, many thanks for this wonderful page on "the Krukker!" When I saw it, the memories just came flooding back. I loved John so much I even read his book! Those '93 Phils were magic. I see so many people look back on that year with regret that we didn't quite make it, but I don't even think about that anymore. All I can remember now is how much FUN it was. It was so obvious to anyone watching how much those guys loved being out there every day. And they were so gloriously scruffy, unkempt and irreverent. God bless all those guys for that fabulous year!

I am glad to see someone is performing this valuable community service. John Kruk should not be forgotten. He is an inspiration to all us overweight beer drinking softball players who would give anything to accomplish what he did. If I owned a major league team I would start with the Krukster, Rex Hudler, Pete Rose, and "Nails" and build from there. I would somehow resurrect Harry Caray to be my announcer and convince Earl Weaver to be my manager. Keep us up to date on the Krukster's whereabouts. I have a friend who is the spitting image of the Krukster (He has even given autographs after games as the Krukster to unsuspecting fans) Each summer he hosts the annual "Krukfest Wiffle Ball Tournament" in which the winning two man team wins a keg of beer. Thanks, enjoyed the web page.

John Kruk and I were teammates through the minor leagues. I must say that he is the most genuine person you could ever have as a friend. The years we have known each other is valued in our friendship to this day. I think many people perceive John in a different manner due to his celebrity status. If John never played an inning in the big leagues he would still be the same person he is today. Being a person doesn't change who we really are and baseball didn't change John either. If anything it made him more aware of all the people who want things just because of his status now. He is a private person and his privacy should be respected. I know that John has a tough time dealing with the real world because people are aware of who is now. His goal is to live a normal life just like millions of people in the world. Will it happen probably not. The average fan has no idea what a baseball player must go through to live a normal life. People become overwhelmed by his status that they forget he is just as real as they are. All he really wants is to be left alone in certain situations to live his life. I think there is a time and a place for everything to happen. John Kruk will decide when that is not someone dictating how to live his life for him. John is a great person and a great friend.

After "stumbling" across your web page and reading all of the tributes to John Kruk, I just had to write. I've been a Phillies fan since I can remember. I remember going to Phillies games back in the 70's & 80's when I was a little girl - you know, the days of Mike Schmidt, the "Tugger" and the "Bull". After graduating from college, I landed a job with the Phillies right before the 1993 season started - never having a CLUE that the Phils would make it to the World Series that year. From working there, I met just about, if not all of the players. Some of them were personable, and some of them had egos too big for their own good. Then I met John Kruk. At first I was intimidated - but then we had an actual conversation. He was just like someone you'd meet hangin' out in a bar. And when I say that, I mean it....Here's a guy, who's just doing what he loves (and getting paid for it), and would much rather hang out after a game and "shoot the breeze" with people who didn't even recognize him. I mean, I'd go out after home games and see some players mingling with fans and eating up the attention. But John didn't want any part of that. He was just a regular guy, with an extraordinary occupation. We developed a friendship because I appreciated his humor and values. When I bought his book, he was embarrassed to autograph it for me. I guess he was too modest, but he did it anyway. I remember getting into an argument with him the night before the baseball strike of 1994 - even though I argued his every point of view, I stood my ground, and he still respected me for my opinion. I really miss the days of the 1993 season. That definitely was the most memorable and best time of my life.

On July 21, 1995, I was on layover in Chicago coming back to Philadelphia via Amtrak. Mom and I walked to Harry Caray's Bar and Restaurant. I'm sitting there and a pot bellied scruffy gentleman and four suits sit down in the corner of the room. I look at Mom "Hey, that's John Kruk." I asked the waiter, he denied it. I kept asking, finally someone gave in and told me it was him. I waited until he was done lunch then I explained myself as a (long suffering) Phillies fan. He asked what was wrong with the team. We agreed to disagree, I said it was the pitching, he said it was the hitting, seems that's always the case. He signed a Harry Caray logo baseball that sits in a cabinet here at the house. Nine days later he retired in Baltimore. My grandfather loved Kruk, he was always a fan of underdogs and used to call him "Kruk the Truck" because of the way he barreled around the bases. It's almost fitting that Kruk's last 'season' was his last 'season'. Keep the memory of 'the Truck' alive... all aboard, Cooperstown in 2001...

[Here's an interesting point of view, received early in '98:] Hey man, I know John Kruk through Polish Pines and don't think he should be worshipped. My god, he just sits around and drinks and does nothing but bullshit. Find someone who is worth worshipping. He has not officially moved to Dallas yet and will not sell his house. He is only staying in an apartment in Dallas, while he is taping the show. His farm is not 300-350 acres, it is only 260, so get your facts straight. Worship Mr. T. [Editor's note: and the problem with sitting around drinking & bullshitting is?...]

I remember updating you a year or so ago on Johnny's status as someone who is a friend from his hometown. It's good to see your site is growing. I was fortunate to play Rec League, High School and American Legion ball with Johnny. The thing I remember the most about that period was how small he was, how slow he was, and WOW how he could always hit a baseball. Johnny was always a great contact hitter (even at an early age), never much power (he was too small), but you couldn't strike him out! The other thing your readers might want to know is what an athlete he is/was. In High School & Jr. College, Johnny had grown to about 5'9"-5'10" and about 160lbs and was in demand. I recall the High School football coaches trying to coax him into playing, but he declined. However, he was an excellent basketball player. Actually, he earned a scholarship to attend Potomac State College on a basketball scholarship...that's right!...a basketball scholarship. PSC had an excellent baseball program also and Johnny's intention was to also play baseball. He gave up basketball after one year and the baseball program folded. Johnny then transferred to Allegheny Community College where he was drafted by the Padres. He may not look like it, but he will beat you at anything he does. He was just a good athlete with exceptional hand-eye coordination. Obviously Johnny is now doing the FOX Fantasy Baseball Show. I don't see him much anymore as a result of his new job but I can't see him doing that for long (it's got to be boring for him). Your readers are correct, Johnny has a wide spectrum of friends from the auto mechanic to the attorney. He can talk with anybody particularly if they don't get caught up in who he is, or what he has done. He just wants to be as normal as a guy can be who played 10 years in the majors, with a National League Championship ring, a AAA batting title, a lifetime .300 average as a major league hitter, and 3 National League All Star selections. Long live the Krukker!

This page was last updated July 29, 2000. E-mail me with your contribution.